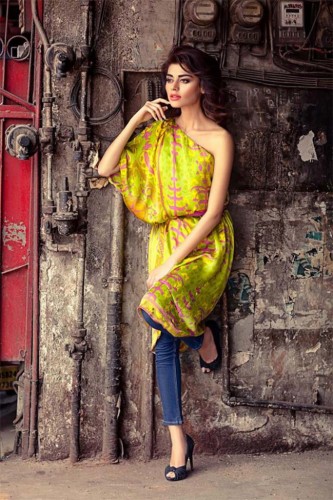 New trend has come to Pakistan and off shoulder trend is becoming famous in Pakistan.
New trends in fashion are always welcomed with great likes and dislikes. The fashion industry of Pakistan is growing quite fast by adopting the new fashion trends of Hollywood and bollywood. Pakistani people's watches movies and then they get inspiration regarding their outfits, they also like following all their fashions, western styles are being followed by our societies and now a day off shoulder dresses are becoming famous in Pakistan because girl likes wearing stylish dresses.
As new advancement comes in dressing styles every girl wants to keep herself up to date and adopt beautiful dresses. Transforming from simple to modern attire is a great achievement by Pakistan fashion industry. Off the shoulder is a different and unique style mostly used by western girls so mostly girls want to look prettier and adopt such styles to wear on party or on some special events.
If you want to look more stylish then you must try these off the shoulder dresses, these of the shoulder dresses includes off the shoulder maxi, tops. Crop tops etc. it gives the best feminine look to the fashion conscious girls and they like to choose their wedding gown in this style.
Party wear dresses in off the shoulder style looks more embellished with graceful embroidery. Fabulous cut work makes it more fantastic. In Pakistan bridals also use off the shoulder dresses to look fabulous on their special day. If you are going to attend a wedding then select a lehenga with off the shoulder embellished top or blouse and wear a neck piece along with it, skyscrapers and stylish clutch or hand bag.
The main thing is to select the right fabric, in these dresses mostly silk, chiffon and crepe is used. It must be elusive with elegant look to go well with formal and informal events. Off the shoulder tops can be worn with jeans, pants, tights and trousers for casual occasions. Pick some trendy outfits to look more stylish.
Read Also